For summer and sea lovers, the time has finally come. And although the new trends for many Bulgarians are for summer holidays in Greece there are many places on the Bulgarian Black Sea coast that should not be underestimated. The advantages are more tolerable temperatures. And for those who do not like the heat, a wonderful opportunity is the northern Black Sea coast. Do you know what the longest and most spacious beach is? Yes today I will try to present the beach in Kranevo. In fact, the beach is so long that it actually connects Kranevo with Albena. You can walk between the two resorts just walking on the sand.
With a commonrating from 8.3Kranevo Beach (Vanilla Beach) ranks 2nd out of all beaches on the Northern Black Sea coast. Totalbeach rating is 8.3.
The beach has everything you can think of. You can rent an umbrella, find a place to play volleyball, stay in a more secluded place or eat in some of the restaurants on the beach. And if you get bored, you can practice some of the water sports.
And if the weather is not for the beach, we suggest you visit some of the attractions that are close to the resort. You can find them on our house with атракции.
Atractions
Among the many attractions located nearby are - Central Beach, Aladzha Monastery, Botanical Garden, Dolphinarium, Sea Garden, Baltata, Dobrudzha Cross Forest, Aquapark, Palace, Kaliakra, Yailata.
More information about the beach can be found on the following website:
Kranevo Beach (Vanilla Beach)
With an overall rating of 8.3, Kranevo Beach (Vanilla Beach) ranks 2nd out of all beaches on the Northern Black Sea coast. The natural conditions and amenities of Kranevo Beach (Vanilla Beach) make it suitable for relaxation, adults, family recreation, water sports.
Prices in the village of Kranevo are relatively lower than in other summer resorts in accommodation options in family hotels, guest houses and private rooms. And why not in Къща за Гости 51? You even get as an extra strength to use басейна.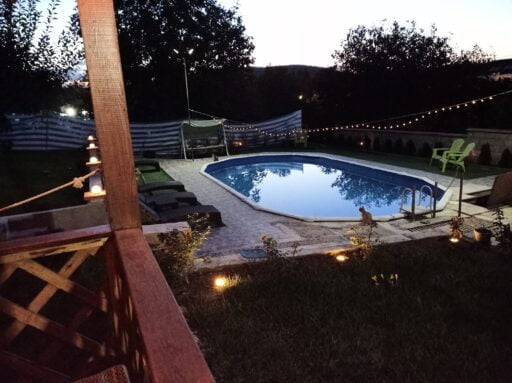 And if you want to enjoy the view of the flange from a bird's eye view, there are invented drones.